Money Hunter (Demo)
DEMO GAME
Compiled with Game Boy Development Kit (GBDK)
Controls.
Arrow Keys = D-PAD
Z Key = A
X Key = B
Enter = Start
Shift = Select
Mobile controls are already setted up.
If a message pops up like this: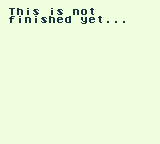 That is the end of the demo game.
Press START will cause some glitches.
Did that to avoid the game crashing.